VAZOO 2
Sale price

€927,00
Regular price

€1.426,00
(/)
---
Delivery time about 8 weeks
The VAZOO bookcase is a modular structure based on characteristic turned solids. Turned elements resemble vases with their form, which lift the shelves, constituting a strong accent of the furniture. For contrast and counterweight, powder-coated rods have been used, creating a delicate openwork. VAZOO can have the form of a low three-shelf rack and a tall six-shelf rack. It is available in two lengths.

Have you ever thought about putting bookshelves on a pile of vases? Sounds ridiculous, huh?

Well actually not, if they are made of the finest solid wood, beautifully shaped in geometrical forms. What's more? It's already done, and you can find it in TAMO. Vazoo bookshelves were made not to rest but impress. Streamlined shelves reminds of the 6-storey Polish Ocean Lines Building - pearl of our marine city of Gdynia. Oval shelves, straight lines and funky shapes - it's hard to resist his original charm. Partition is going to adapt in any circumstances from small studios through compact kitchens to wide spaces with books, plants and ships-in-bottle to settle in. Peculiar Vazoo is a modular bookshelf where all of your treasures can be proudly presented. VAZOO is made of solid (FSC certified) oak wood, manufactured in old dockyard warehouse by crafts master, head designer and founder of TAMO Marcin Laskowski. His rebellious soul leaves TAMO uncompromised to the highest quality, making TAMO's furniture longevous. Many of his works are regarded as a new Polish Classics and were awarded many times.

It's available from 3 to 6 shelves. See dimensions below:

Product dimensions:

6 SHELVES - width 110 cm / depth 30 cm / height 199 cm

5 SHELVES - width 110 cm / depth 30 cm / height 162 cm

4 SHELVES - width 110 cm / depth 30 cm / height 125 cm

3 SHELVES - width 110 cm / depth 30 cm / height 88 cm

height of the "vase" 35 cm

base height 12 cm

shelf thickness 19mm



6 SHELVES - width 110 cm / depth 30 cm / height 199 cm

5 SHELVES - width 110 cm / depth 30 cm / height 162 cm

4 SHELVES - width 110 cm / depth 30 cm / height 125 cm height 88 cm

"vase" height 35 cm

base height 12 cm

shelf thickness 19 mm
Body - solid oak wood in class AB or solid ash wood, depending on the version. Oak (oak) or Ash (ash)

Legs - powder coated steel

Finish - Stain, oil-wax or varnish
VAZOO 2
Sale price

€927,00
Regular price

€1.426,00
Choose options
VAZOO 2
Sale price

From €927,00
Regular price

€1.426,00
system
VAZOO 2
Vazoo to regał, a może nie tylko, bo dzięki toczonym wazonom wygląda trochę jak rzeźba lub instalacja i nadaje wnętrzu wyjątkowy charakter...
- Green Grey Living -
forma
GRAFICZNOŚĆ BRYŁ
To modułowa konstrukcja oparta na charakterystycznych toczonych bryłach. Elementy toczone przypominają swoją formą wazony, które unoszą półki stanowiąc mocny akcent mebla. Dla kontrastu i przeciwwagi zostały zastosowane pręty lakierowane proszkowo stanowiąc delikatny ażur...
funkcja
KOMPOZYCJA
VAZOO może mieć formę niskiego trzy półkowego regału jak i wyższego czteropółkowego.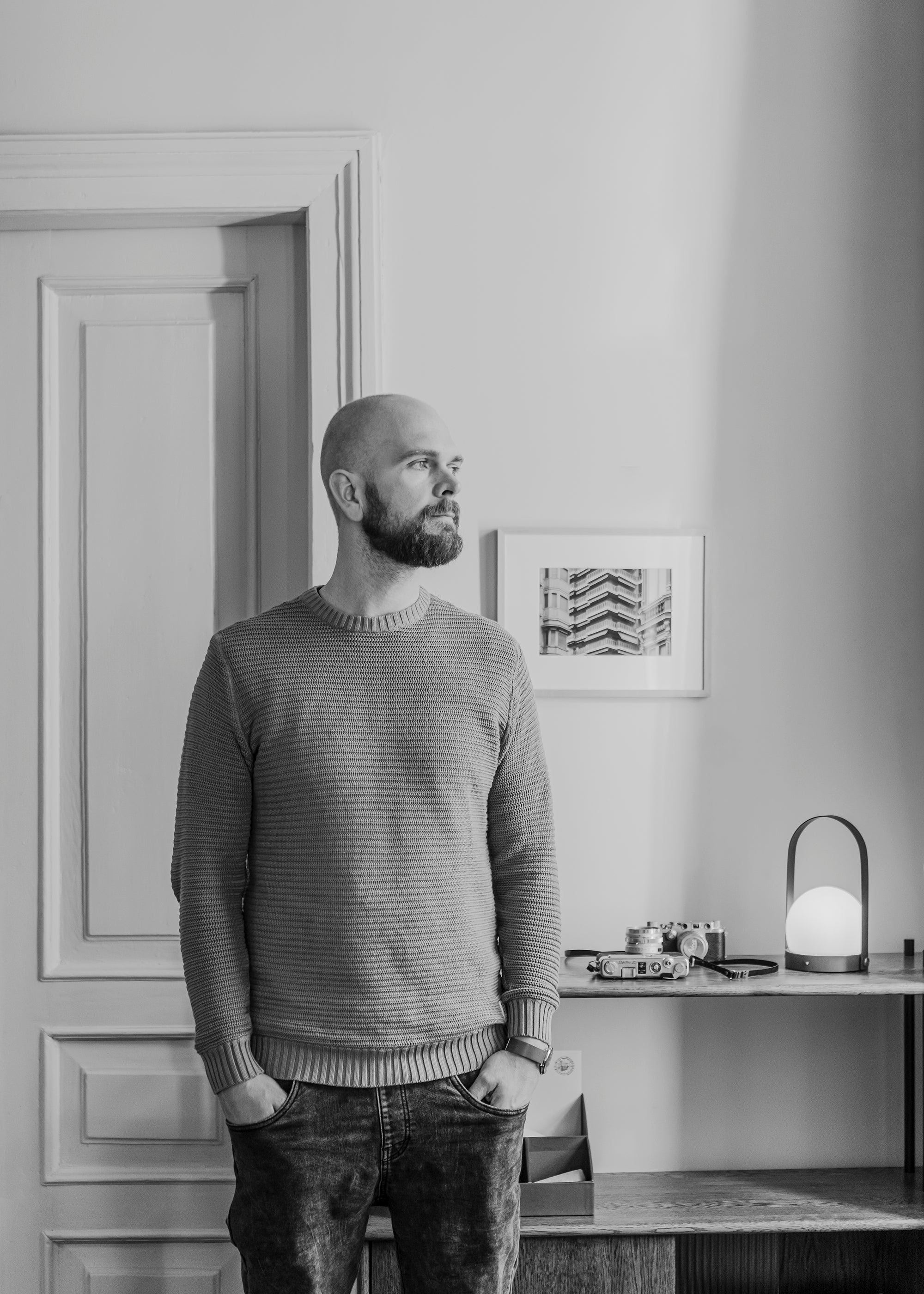 designer
MARCIN LASKOWSKI
Jest założycielem TAMO, przedsiębiorcą i głównym projektantem. Pod jego kreatywnym okiem powstała większość produktów marki. Czerpiąc kreatywną siłę z tradycyjnych umiejętności stolarskich i zamiłowania do sztuki, powstała unikalna, autorska kolekcja mebli. Jego eksperymentalne podejście do formy i dbałość o kierunek artystyczny kolekcji daje wyraz prawdziwej idei TAMO. Tworzy meble nacechowane mnogością form, płynnie łączące w sobie odniesienia kulturowe m.in. do gdyńskiego modernizmu czy minimalistycznego północno-europejskiego projektowania. Głęboka pasja i wiedza Marcina na temat drewna, przemysłowych i rzemieślniczych procesów produkcyjnych przewija się przez każdy aspekt jego pracy. Absolwent Akademii Sztuk Pięknych w Gdańsku zdobywca pięciu statuetek MUST HAVE za najlepiej zaprojektowane produkty.