COLLAB STORIES
Eva Jablonsky
In the world of design and art, I have the impression that somehow what belongs together goes together....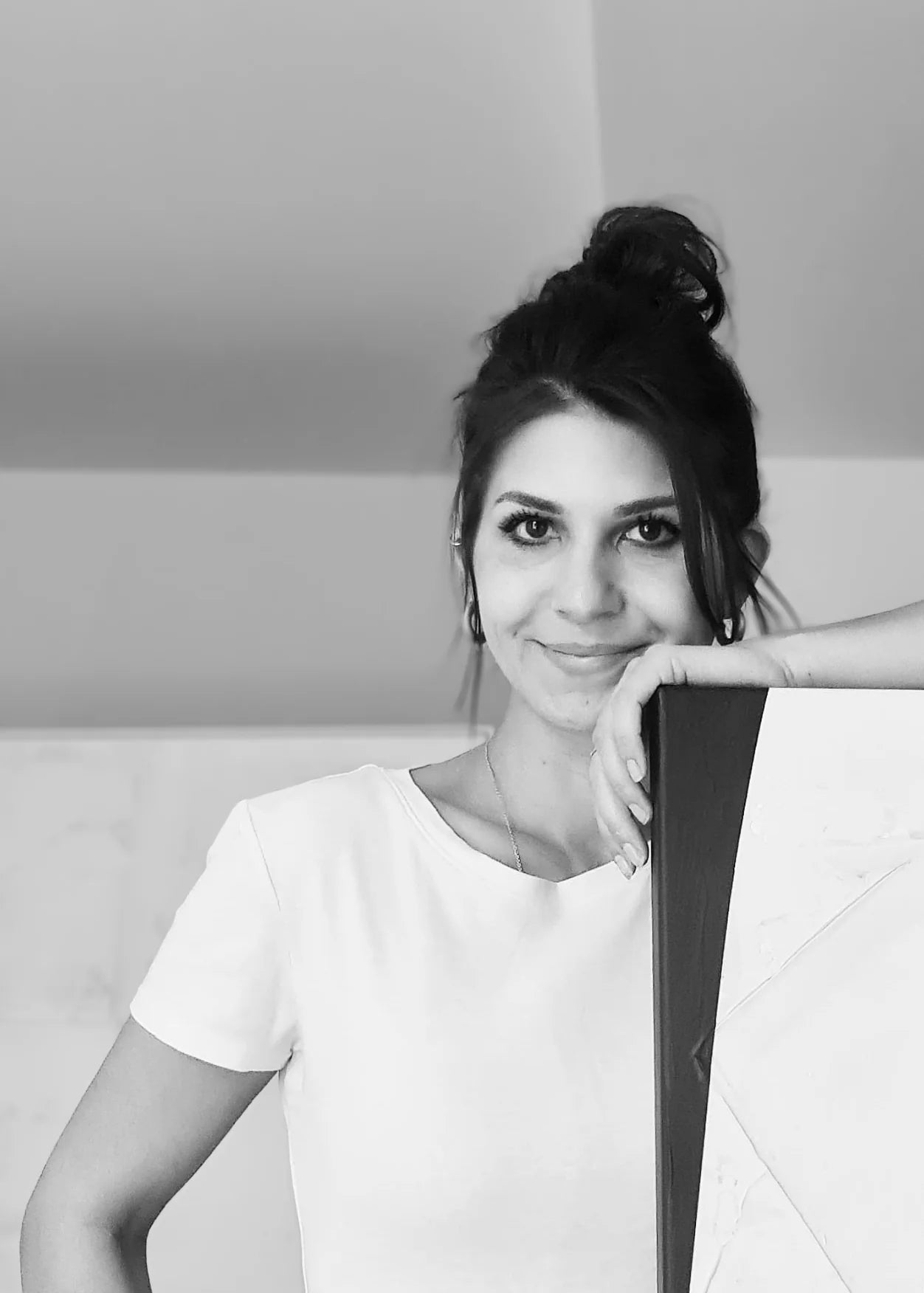 COLLAB STORIES
Eva Jablonsky
Eva, an artist from Berlin, is a lawyer by profession. However, art, design and architecture were her great passions already during her studies. Thus, trademark law and art copyright law were her specialties. In 2022, after many years of working in this industry, she resigned from her job at an international law firm and has since devoted herself entirely to art. Today, he collaborates with stylists, photographers and architects, and sells his art all over the world...
MORE
Interview
Eva Jablonsky & TAMO
When did your passion for art appear in the surroundings of good design? Has art always been a part of your life?
Art has always been my passion. As a child, I was very creative and became interested in art relatively early. I bought my first art print (of Wassily Kandinsky) when I was 10 years old. At school, art was my main subject until I graduated from high school... I wanted to study art or law. Then I chose the latter… When I finished my studies and had more time for myself, I became very interested in design, architecture and interiors. I could spend hours flicking through interior design magazines, and when traveling with my husband, I deliberately chose places that fascinated me in terms of design. More and more often I had a feeling, or rather a need, that I also wanted to create something beautiful for this world. I had a desire to create art and decorate the most beautiful interiors with it.
Art, design and interiors come together in your creative world. What would you call the direction in which you create and what is its determinant? Is there more design or artistic creation in it?
My paintings are abstract paintings and what I like about abstract painting in general is that it is very changeable. Depending on the interior in which it will be used, it gives a completely different effect depending on its style. A work of art can harmonize with the interior in a calm way. But the same image can be very contrasting in a different interior and create a completely different effect. That's why I wouldn't attribute my art to any particular direction. However, I think that what makes my art is that it can emphasize the interior, it stands out without dominating it. Perhaps he just has the necessary balance between restraint and presence. I am often asked if I see myself as an artist or a designer. To be honest, this question always surprises me in a positive way because I always assume that whoever paints is technically an artist. But the question probably comes from the fact that I often create art for a specific interior, so I think that in a sense I am both. Just like many designers and architects, they are also artists for me.
You often work with other brands, interior designers, how do you find a balance between what you feel and the external requirements of the market?
In the world of design and art, I have the impression that somehow what belongs together goes together. I never feel the demands of the market as something I have to deal with or adapt to. Rather, it is what is in me and what I love. It's exciting for me to be able to respond to that and give something back to this market.
Is your studio your sanctuary? Why this particular place, does it have a special story behind it? What influences your creativity in it? Do you consider it your ideal place to work?
At first, I wasn't looking for a studio at all, I was a little afraid of this step. I was painting in the attic of the tenement house where we live, which became more and more difficult because there was little daylight there, it was very cold in winter, almost like in a sauna in summer. One day my husband found a studio for me. I have a great weakness for outdoor light garlands. When my husband showed me the studio, I immediately fell in love and the decision was made. The studio is located in a quiet, green yard of an old tenement house. The whole yard is decorated with lights and when I saw it, it was love at first sight. Of course, the space was also adequate. It is one very large bright room that guarantees good natural light. The backyard location has something of a safe haven for me, it's very quiet. When I'm not listening to music, I hear birds singing. The sun comes in. It is an oasis of peace for me and I can't imagine a better place to work creatively.
What is your everyday life like outside the studio? Do you have other interests, passions... that influence your person?
As an artist, I also work a lot in the non-creative area, and administrative tasks take a lot of time. I like to do it at home at my desk because I only want to use my studio for creative work. Apart from working as an artist, my great passion is design and architecture. So basically my job is also my hobby to some extent. I love to lose myself in interior design magazines, whether at home or in a coffee shop. I really like traveling with my husband and we try to go to places that appeal to both of us in terms of design, e.g. we love good food.
Does your home also express your personality, how? What do you like most about it?
For me, home is something very important and necessary. It can be a place of retreat that can underpin all your well-being. That is why my husband and I tried to design our house in such a way that it would radiate peace and security for us. We live in a 500-year-old tenement house with ceilings 3.4 meters high in places. There aren't many things there, it's very clean and we don't have anything colorful. The entire interior consists only of natural shades, both dark and light. White, beige, ocher and black. One wall, for example, is black. I like my house best in the evening, when it's dark, and the numerous lamps, which I have a fondness for, create a cozy atmosphere. What I also like to do at home is cooking. I often come home, change clothes and start cooking within 5 minutes. I feel that as soon as I leave the studio, I still feel the need to do something craft, which I also find in the world of the kitchen.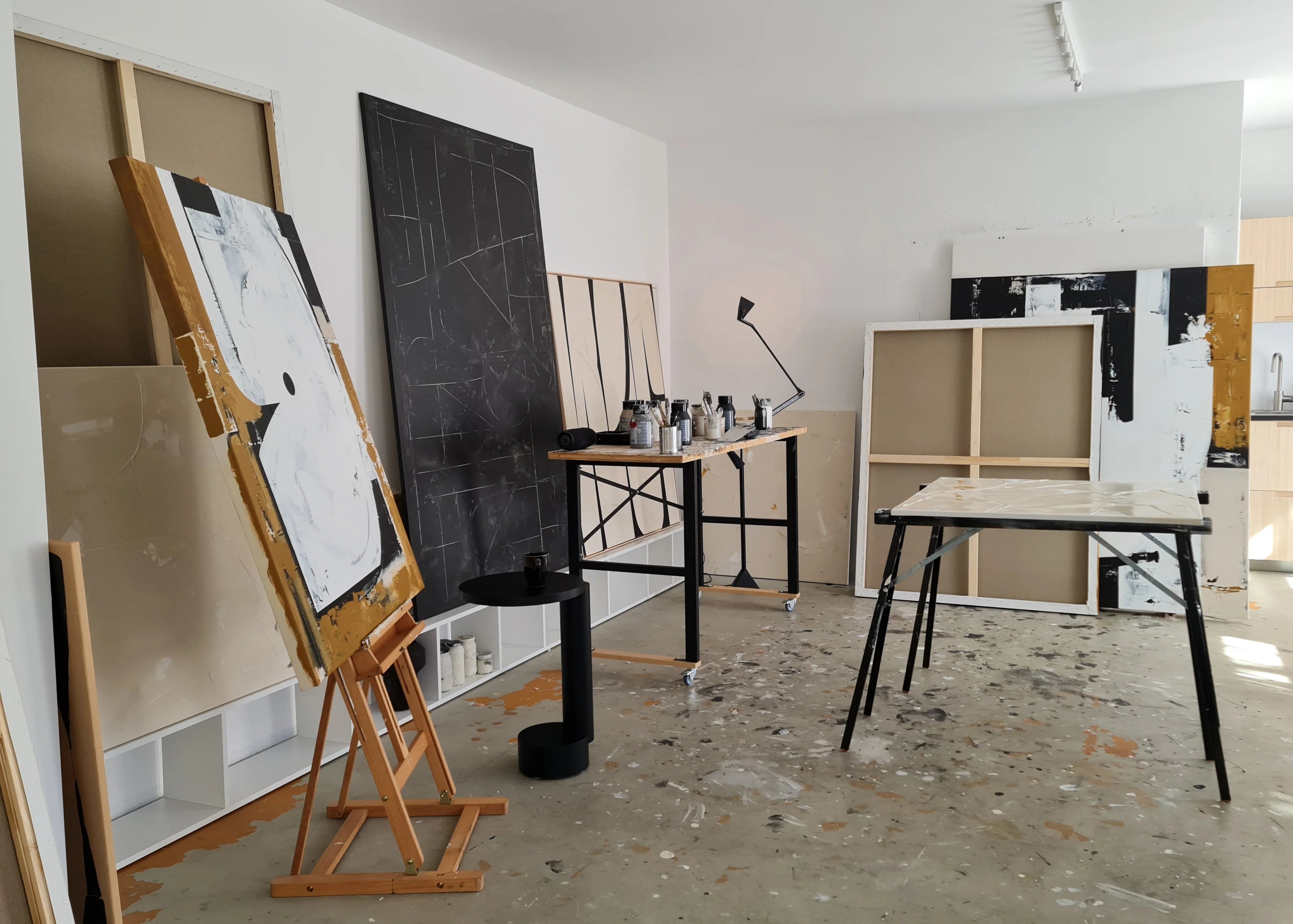 How does TAMO furniture correspond with your style and everyday life, both in the studio and at home? What do you value most about them?
What I find particularly beautiful in TAMO furniture are clear geometric shapes - and what is very important to me - the proportions of shapes and lines to each other. They are very successful. Their clear design language is exactly to my taste, fitting into the home and studio, and also to my art. I attach great importance to quality in design. What I like about TAMO furniture is that when we lift or touch something, we immediately feel that it is heavy, solid and durable. The craftsmanship is of high quality and the furniture has beautiful surfaces where you can still feel the wood itself.
What is particularly beautiful to me in TAMO furniture are clear geometric shapes - and what is very important to me - proportions of shapes and lines to each other.