DESIGN STORIES
Sylvain WIllenz
I like to give my furniture a sort of dejà-vu feeling, a sort of familiarity combined with elements of newness,which I believe makes a long-lasting & mass appealing design.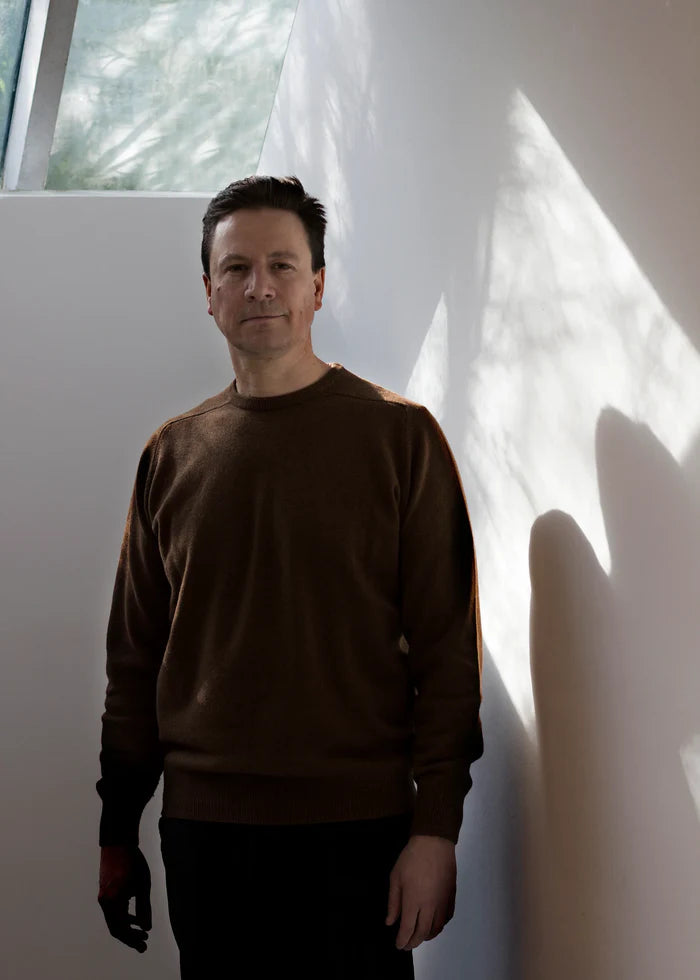 DESIGN STORIES
Sylvain Willenz
Belgium based, signature designer Sylvain Willenz
creates furniture, lighting and products for international clients
since 2004. Renown for his strong yet simple graphic aesthetic,
Sylvain is fascinated by production, manufacturing and pays great attention to detail. Over the years, Sylvain developed a singular style of ligne claire, which instills his simple, elegant and graphic designs, so recognisable and unique today.
MORE
Interview
Sylvain Willenz & TAMO
DESIGN - was it Your dream since an early age, what captivates You the most about it?
I only really found out about design and what it meant to be a designer when I was a teenager. But from an early age I was very hands on, making the things I wanted or dreamed of, experimenting or inventing things. Originally I wanted to be an illustrator or cartoonist, but when I discovered design I felt that perhaps I could use that interest differently. At the age of 18 I embarked on a journey in the UK
to study design, graduating in 2003 from the MA Design products course at the Royal College of Art of London.
Over the years of Your experience, You have created Your own style...how would You name it...pointing out the most important things?
I would call it aligne Claire. This is a term used in Belgian comic strips; basically a clear line, defining simple and graphic characters and contours. TORCH light was the first product to clearly apply this idea; a lamp defined by its archetypal form, like a shadow. BRACKETS INCLUDED was also a style setter; an idea reduced to its absolute essential, defined by refined and gentle details. I like the idea to design friendly, approachable objects with a classic and elegant touch. I don't like sharp angles and corners
 which I find more agressive and I would not want to live with. I like to play with archetypes, and turn these into gentle and welcoming shapes. I like to give my furniture a sort of dejà-vu feeling, a sort of familiarity combined with elements of newness, which I believe makes a long-lasting and mass appealing design. Other typical and recent products that carry this approach are the BODY, UPON and BAANI chairs amongst others. HOMERUN literally refers to cartoonish details. And CEPE is a reinterpretation of the typical mushroom. TOTEM barstool's sculptural form is surprising and its graphic silhouette reveals my passion for illustration, transcending the function of a seat to become a decorative object.
Product, furniture, lighting, and many more...are the result of the process... could You tell Us how You achieve the approach between Your clients, the market need, and the final touch of Your work?
As a designer I am naturally curious about many things; materials, production, how things are made. But working as a designer also means listening to your client, the market needs, or the audience. Therefor it is very important for me to have a good relationship and communication with my clients. We should share the same values, same objectives and also contribute towards each other in a positive
and friendly way. Each collaboration and every process is different of course… but there needs to be some kind of good synergy to start with. If there is a clear need to start from, we can find a clear answer. It is all about identifying where we want to go, what we want to achieve. Then it becomes an equation, and we try to resolve it. The goals is to design a functional and beautiful object; with my style yet which fits the client's portfolio as well; with a certain intelligence and story, about for instance its material, its process or its reference. If we manage to put all these things together, then generally we have a good design that is there to last.
As the head of Your design studio based in Brussels, what is the most important about teamwork?
My office is very small; it's my assistant and myself, and sometimes an extra person. I want to keep it small because I believe that if you are well focused and have good energy you can be very effective. Clearly I cannot do everything on my own, so I need people to help. Being a designer is about multi-tasking and multi-thinking. You need to be able to have ideas, find solutions, communicate, have administrative skills, react to unexpected situations, take decisions and much more.
All that whilst keeping a life… and in my case, running an online shop and orders as well. So, it's important to have a clear mind.
Furniture, lighting, textile, craft & art - many creative fields - how do You find the balance between craftsmanship & innovations?
Yes, that's right… I also have a small ceramic workshop at home where I can experiment. I also love craft and making things. A few years ago I took a very special ceramic workshop in the wild. I wanted to continue so I set up a small workshop in my garage at home. This enables me to sometimes switch from millimeters and the computer, and do things with my hands very freely. So I developed a small artworks side activity. It's only visible on@sylvainwillenz-artworkson Instagram. What's great is that my artworks have directly been influenced by my design work, and that now some my artworks lead to products. So one area feeds the other. I developed a pattern inspired by my RAZZLE DAZZLE textile, which I apply to my ceramics. And now we've designed some wall tiles with this spun-off texture for ATELIER FRANSSENS. And that tile let to other tiles, notably for NORMANDY CERAMICS.This interest for clay and texture has also led me to design the COUPLE coffee-tables for MUUTO, which was a very interesting process of rationalizing clay to industrial standards. One thing always leads to another.
Your art & sculpture...what is the story behind it, is it more passion or the direction for Your future?Would you be able to change Your life from design to art?
Hmmm… difficult question, no I don't think I can just be one or the other. I'm definitely a designer and actually I cannot consider myself an artist. For the moment I am making artefacts… but these are far from being works of art. For now, I have an artistic approach to my craft. But I could definitely become a craftsman.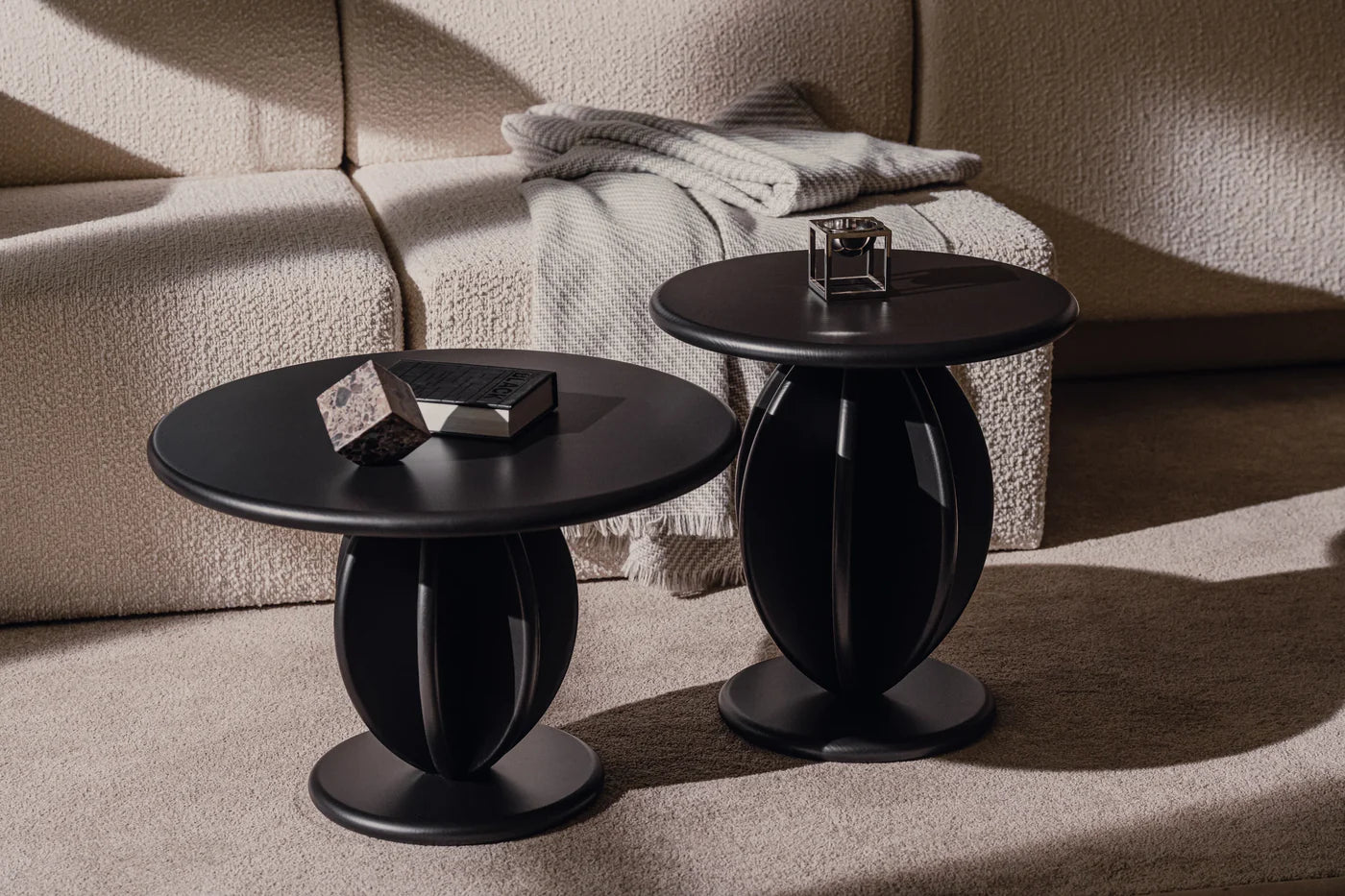 SYLVAIN WILLENZ
Citrus collection
What captivates You the most about the TAMO brand? 
I think TAMO is very special and unique. It speaks to me in the sense that it isn't restricted to a sole direction. It feels eclectic in terms of aesthetics, materials, and styles… yet all feels coherent. The designs have a slight experimental dimension, whilst they are also rational. The general image is classic, elegant and conveys a pleasant and warm dynamic. As much as I like to design very pragmatic things, I also enjoy to occasionally elaborate more expressive and slightly experimental pieces of furniture.
I think TAMO is a great place for that as they are capable of making those more unusual pieces exist in the real world, in an accessible way via the online medium, and at an affordable price.
Tables, it is the first result of our collaboration...Why this product category...? and could You share with us the process which stays behind the technology, the shape, and the TAMO brand?
The CITRUS table is the first collection I designed for TAMO. When asked to think about a table collection I noticed TAMO did not have a central foot dining table. I am personally fond of central feet tables as they are less visually noisy, and one is not bothered by table legs when sitting. But more importantly, designing such a table for TAMO was the opportunity to design a central foot table with a sculptural dimension. I enjoyed the idea of the central foot as of a voluptuous form with a certain lightness. As I was rationalizing the possible way of constructing and assembling this shape, I came up with this idea of splitting the foot
into several fins. It was obvious that making these in 2 smaller versions, for side- and coffee-table would come as great additions.
How would you find and describe the bridge between TAMO's client & Your product?What is the most important value of Your product?
I believe CITRUS offers a great solution for TAMO's clients; the tables are generous, sculptural, yet functional pieces. Their aesthetic is elegant and unique without being too overwhelming. As from a practical point of view, the tables come flat-pack and are easily assembled which is a great optimization between design and the realities of logistics. Overall, I believe the CITRUS is a beautiful answer to a complex design equation.