I collect various gadgets, paintings, ceramics, books and artifacts. It all has to find its place and look beautiful. Each of my objects is, in a sense, my emanation. Colors, shapes, forms in the house... these are the pictograms of the owner.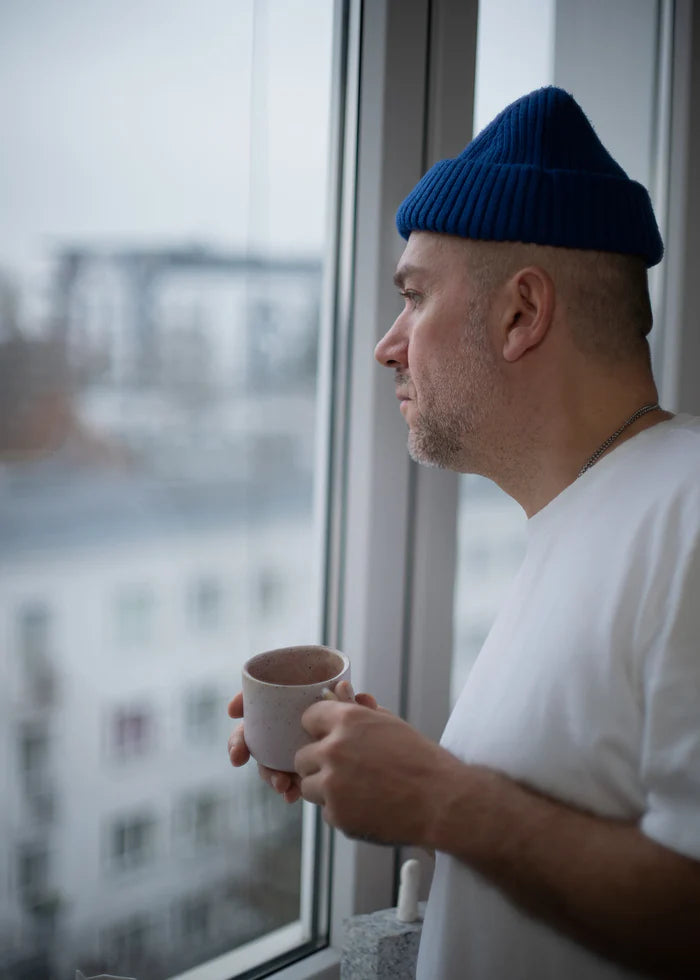 Collab stories
VIENIO
- actually Piotr Więcławski - rapper and producer from the Warsaw composition of Molesta Ewenement. He worked as a journalist in the "Ślizg" newspaper and co-hosted, together with Tomek Lipiński, "Wysypisko" - a cultural and music broadcast on Roxy radio. He is a gourmet and enthusiast as well as a frequent visitor to Warsaw restaurants and street food.
MORE
RAPER, PRODUCER and COOK... do your passions and interests influence each other or are they rather separate worlds?
Absolutely everything permeates and coexists with me. I am multi-tasking and I appreciate and cherish that in myself. Every activity related to my realization needs rest, so when I fulfill myself in one area, another is waiting for its turn to be able to work at 120%. I do things in life that I love and feel, and I absolutely consider it my great success in life. That's why I'm never in the proverbial job, only in teaser projects. Writing lyrics, cooking or making collages are very similar processes in a way. From the elements I arrange a concise form that satisfies me, it is identical with me. It is a great satisfaction.
For many years your life was focused around music... where did the idea for healthy cooking and life changes come from?
A person changes every 7 years. The world is also constantly transforming, giving us not necessarily health. Being a conscious person, I decided to change my habits. I don't eat meat for 17 years, stopped drinking beer and lost 15 kg. Following the ideas of the first sentence, I decided to absolutely stop my venture. I started cooking a lot at home and I watch what I eat and buy. In addition, I believe that after the age of 40, you absolutely need to take care of your health and fitness, and hence running. Also, from the period of slight growth, I fell into a very nice period of taking care of myself and I'm fine with that.
What does your everyday life look like? What moments influence your better day or creativity?
There is no way to wake up sober and sleep well. Then water with lemon and jazz and you feel good right away. Add a few drops of good CBD oil to relax the tension of the internal organs and you can start the day. Then gym and abs and 5 km on the treadmill. A completed task at the gym absolutely sets a person to task for the day and then everything falls into place and succeeds. In addition, there is always good food without chemicals and the body is satisfied. He lets you know about it with a clean head and creativity. I see that I have a lot of it so it's ok.
You are currently arranging your new space, can you tell us more about it? What is the main theme? Which space will be your favorite place in the house?
Yes. I recently purchased a new apartment in Dolny Mokotów. High with elevator to the 5th floor. No one looks in my windows, and I have a view of Park Łazienki and all the skyscrapers in the center that glow beautifully at night. It goes without saying that it's my favorite place in the house
there is a kitchen, in this case combined with an open space living room. I am super happy that the previous owner demolished the wall between the kitchen and the living room and created this space. There is a place for everything and I got what I wanted.
I like Scandinavian solutions in the kitchen and in the living room. Because I have a wonderful antique chest of drawers where I keep all my stuff
from ceramics and glass, there was no need to organize hanging cabinets. In this way, I gained more bright space in the kitchen.
When it comes to the living room, I like a simple theme, in this case TAMO ... elegant modular furniture and a chest of drawers for a gramophone and vinyl records.
I don't have a TV at home, so organizing a large room is not subordinated to the classic layout as in many apartments. This gives more cool solutions, does not dirty the space. You can focus on other, in my opinion, more interesting solutions.
Is your home a form of expression of your personality and passion?
Yes, of course, with a bit of your own contribution, or advice from designers, in this case Zuza Morawska from the Metarz studio, the apartment becomes identical with the owner. It is important that it correlates, gives satisfaction and pleasure from staying. It is a big mistake not to pay attention to it. Flats furnished haphazardly or by accident can absolutely annoy us or give us no rest. I collect various gadgets, paintings, ceramics, books and artifacts. It all has to find its place and look beautiful. Each of my objects is, in a sense, my emanation. Colors, shapes, forms in the house are the owner's pictograms. I hope it is the same in my apartment.
You chose the TAMO brand as part of the arrangement, tell us about your product choices and what guided you in them?
I needed a piece of furniture for a turntable and vinyls, which I have a lot of. As I mentioned earlier, I do not have a TV set, so the design of the living room did not start with the purchase of new equipment and a decoder cabinet. In the place of honor is a corrugated chest of drawers inspired by Polish modernism, it plays the main violin. When it comes to a lounge set, I've always been fascinated by modular furniture. They can be rearranged indefinitely according to your needs. Once as a bed for a guest or a giant sofa for the crew, or a penny on one side and a corner. The set worked well here .... Besides, the non-invasive BOLD side tables are great. It's nice that they are colorful and take up so little space. You can feel that these are solid things and in 100 years they will be monuments, it's probably clear.
What do you value most about our brand?
TAMO furniture is solid and made of good materials. The chest of drawers weighs 40 kg and you can see that it is real wood, not plywood. I really like a few more gadgets from the website, but now I need to take a break and get to the bedroom. I like the inspirations that TAMO designers draw from and the choice of materials.