COLLAB STORIES
Green Grey Living
Vazoo is a bookcase, and maybe not only that, because it made the vase look a bit like a sculpture or an installation and a special character.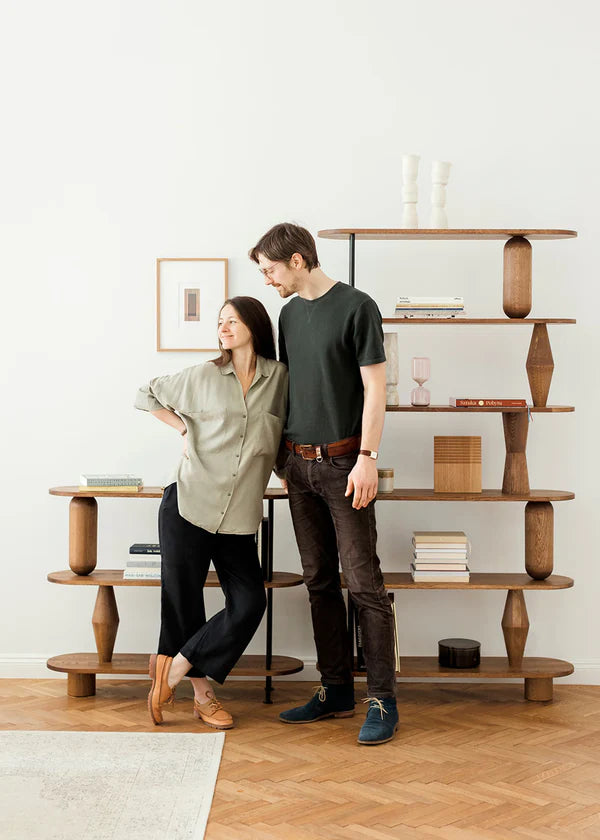 Collab stories
GREEN GREY LIVING
We are Dominika, Krzysztof and Szara - a 2-year-old Weimaraner. We like to be in beautiful places and surround ourselves with beautiful objects. We live in an apartment in a tenement house from 1913 in the south of Poland in Bielsko-Biała, which we mostly renovated and decorated ourselves.
MORE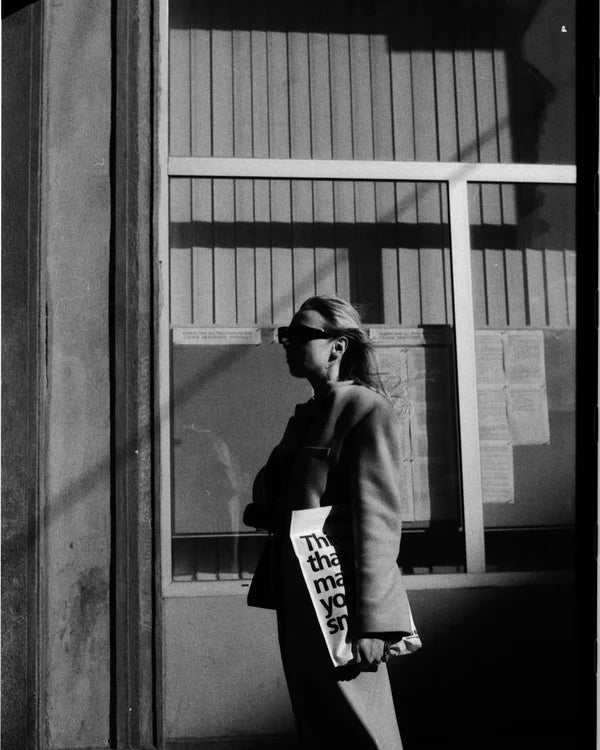 Photographer
ULA KOŚKA
Paradise KitschI am looking for erudite connections between old art and contemporary sensibility. Very quickly, however, I began to create my own formal language, looking for my own style, often referring to consciously interpreted kitsch or camp aesthetics. This aesthetic trend and the accompanying atmosphere of nostalgia have become a characteristic feature of my photographs, which I create under the banner of Paradise Kitsch.
MORE
Interview
Green Grey Living & TAMO
How did your love at first sight for living in an old tenement house in Bielsko-Biała begin, what is the story behind it? Why did you choose this place and not another?
We decided to live in a tenement house because we love interiors with a history that have this "something" in them - space, high ceilings and old, natural materials. According to the information we have obtained, the tenement house was designed by Felix Korn, the son of Karol Korn, an outstanding pre-war architect from Bielsko. It was he who designed, among others, the Main Railway Station in Bielsko and Teodor Sixt's Villa. The apartment charmed us from the first moment. Already from the threshold, we were struck by a white, majestic tiled stove looking at us from the bedroom. When we grabbed the brass handle of the huge wooden door, and the oak parquet floor creaked under our feet, we knew that this was what we were looking for. The first room we entered is our current studio - we were delighted with the bright, wooden bay window overlooking the street. We haven't seen the cracked walls and the amount of work that will have to be done to move in here. We fell in love with this place and it stayed that way.
What do your daily rituals look like? What influences your better day, your creativity?
Dominika: The most important thing is having breakfast together. We have to eat them together, time doesn't matter. This is our daily ritual for which we always find time. For me, the morning is the most important part of the day, I spend it without a phone and a computer. After breakfast, I go for a walk with our Gray Pointer, then writing a daily journal, a gratitude notebook, and a moment for coffee. Only after such an analog morning do I sit down to work. This allows me to start the day off, but then I can concentrate better during the day. For some time now, we have been lucky enough to host Agnieszka - our "private" yogi and a wonderful person, once a week. She does yoga for us, for my mother and sometimes also for my brothers. It's a family weekly ritual that keeps our bodies and souls in better shape. We usually spend the evenings on the sofa, cuddling and stroking the dog, which calms us down after a long day of work. A ritual for the benefit of both parties!
How important is your home, your space to you?
We like to be in beautiful places and surround ourselves with beautiful objects. We wanted to create such a house for ourselves and I think we succeeded. What we like about it, for example, is that it's not perfect, the brick in the kitchen is arranged in a bizarre composition, and the parquet floor creaks with every step. Some of the furniture is new, and some is gleaned from flea markets and used items. Surrounding ourselves with them, we often recall stories related to them or their previous owners.
Which time of the day / season in your apartment is your favorite due to the play of light, shadows and colors? Is there any particular place where this can be observed?
Each season is different here and paints different pictures on the walls. We love autumn, when the sun is close and even empty, white walls are not boring. Low sunlight casts magical shadows on them. Unfortunately, in autumn and winter, the light falls here only for a moment in the morning and late afternoon. However, in spring, beautiful, diffused light begins to appear, which accompanies us all day. The brightest spot is definitely a large room and study. The dark green bedroom also has its charm, where the light enters only for a moment during the day, reflected from the windows of the neighboring tenement house. It is a unique, fairy-tale game of colors.
What did you pay special attention to when decorating your apartment? What was the idea behind connecting the world of objects, materials and space?
Szanujemy to co stare i uważamy, że dbanie o rzeczy, relacje z materiałami i przestrzenią budują więź i szacunek do niej – ta myśl przyświecała nam w trakcie całego remontu. Postanowiliśmy wydobyć z wnętrza to, co najpiękniejsze i najcenniejsze, a później wypełniać je meblami i przedmiotami, które mają dla nas znaczenie. Głównymi bohaterami naszego mieszkania są ponad 100-letni dębowy parkiet, drewniana stolarka i piec kaflowy – to najcenniejsze, co tutaj zastaliśmy i postanowiliśmy zachować, reszta to zbiory rzeczy, mebli i dodatków, które skrupulatnie wybieramy i zapraszamy do naszego domu. Jesteśmy miłośnikami naturalnych materiałów i przedmiotów z duszą. Często wiąże się to z wieloma godzinami pracy, jakie trzeba poświęcić, aby te rzeczy zaczęły pięknie wyglądać, ale później one się nam odwdzięczają, ciesząc oczy i służąc przez kolejne lata. Przy urządzaniu naszego kamienicznego wnętrza staliśmy się śmietnikowymi poszukiwaczami, myśliwymi na OLX i buszującymi po targach staroci. Urządzanie to dla nas proces i poszukiwanie wyjątkowych przedmiotów. Mamy nadzieję, że szybko się ono nie skończy.
From the range of TAMO products you have chosen Vazoo, why this particular piece of furniture? How does it apply to your daily life? Have you noticed any other furniture that you would love to see in your space?
The material was very important to us. We were looking for an all-wood piece of furniture and opted for oak as it fits perfectly with our parquet. We also really liked the rounded shelves, which in a discreet way refer to an old chest of drawers standing in a large room. Vazoo is a bookcase, and maybe not only, because thanks to the turned vases it looks a bit like a sculpture or an installation and gives the interior a unique character. Furniture that, apart from Vazoo, caught our eye and we would certainly see it in our home is the XO series with grooved fronts. Our latest love is also the TORI sofa.
Now a little about the Green Gray Living X TAMO session, which set is closest to your heart and why? Which was the most interesting from the perspective of the lens glass?
The session was a great way for us to try different locations and find a place where the rack would look and function best. The set that we decided to leave after the session is the layout in the studio, also visible from the large room. The wooden frames of the door frames create a kind of frame for it. When it comes to the most interesting arrangement from the perspective of the lens glass, you have to ask Ula (Ula Kóska - Paradise Kitsch) - the author of these wonderful photos. Ula Kóska: Definitely the most minimal one. Even though I am the queen of glamor and horror vacui accompanies me on a daily basis and I like to smuggle it in portrait sessions, in photography of objects I like harmony and sustainable minimalism. I like this frame passing through the door frame, through to the studio. The colors are unified and the photo gives the impression of a coherent, complete order. Identical with the image of Tamo and our heroes.
Paradise Kitsch photo session