MAYA sideboard
Sale price

€575,00
Regular price

€886,00
(/)
Lowest price in the last 30 day :
---
Delivery time about 8 weeks
Modernism and Gdynia are almost synonyms. No wonder that looking at Maya's shape, we are sure where she comes from.

Spherically milled front, asymmetry, beautiful proportions, combination of solid wood and steel. It fits perfectly with the turntable and the collection of your favorite vinyls, proudly displayed on a small side shelf.

Although its steel legs are neat and inconspicuous, they stoically hold this beautiful piece of wood. Maya never wobbles, she is always completely stable and confident in her irresistible charm. Harmonious, classic but thoroughly contemporary. It's good to see it in many places, because she will work well everywhere. Surely, will add style to any space, be it a living room, office or dining room. Thanks to its capacity, it will hold many treasures, pots, quilts or securities.

Maya is perfectly balanced, thanks to which it will find its place both in minimalist interiors and balance those with a lot going on. Of course, as befits an ideal, it does not come in one, but five colors of the highest quality FSC-certified wood. Maya, made of 100% solid oak wood, can be white, natural, dark or ebony. The one made of American walnut is natural, because our king Walnut does not need overclocking. The marriage of white, brown and American walnut red gives a real riot of colors. All this covered with oil-wax of our recipe.

Lack of harmony in life? Maya is unlikely to provide it, but its static and at the same time undulation will remind you of the sea, which always soothes frayed nerves.

Modernism and Gdynia? Those are synonyms! That's why you need only one glance to know where Maya comes from. Asymmetry, beautiful proportions, mix of solid wood and steel. And above all - Maya loves music. Her shape is a perfect fulfilment for gramophone and vinyls. Thanks to her your collection would be proudly exposed on the side. Looking at her twiggy legs and massive top you could think - that's too much for this baby! But you couldn't be more wrong. Maya's a strong piece of furniture and there're no limits for her - maybe putting an elephant on would be too much. She's cool and balanced, she can handle more than most of us. Our girl is the only one in her kind but it doesn't mean, there's only one Maya. She's available in many colour variants and always made of certified wood. Maya can be ordered in natural, white, dark, ebony oak wood or american walnut. Got no balance in your life? We can't say that Maya would provide some but let her waves remind you of the Baltic Sea. It's always calming.

Height 75 cm
Width 88 cm
Depth 40 cm

Weight 25 kg
Body - solid oak wood in class AB

Legs - powder coated steel
Finish - hard wax oil
MAYA sideboard
Sale price

€575,00
Regular price

€886,00
Choose options
Sale price

€575,00
Regular price

€886,00
(/)
Lowest price in the last 30 day :
---
View details
modernizm
MAYA
 Wyważone połączenie litego drewna i stali.
rytm
HARMONIA
Harmonijna, klasyczna lecz na wskroś współczesna. Doda sznytu każdej przestrzeni czy to salon, biuro czy jadalnia.. Maya jest idealnie wyważona, dzięki czemu odnajdzie się zarówno w minimalistycznych wnętrzach, jak i zbalansuje te w których dużo się dzieje...
rzemiosło
DETALE
Kuliście frezowany front, asymetria korpusu i piękne proporcje. Wyważone połączenie litego drewna i stali.
Maya, z 100% litego, dębowego drewna może być biała, naturalna, ciemna lub wpadać w heban. Ta wykonana z orzecha amerykańskiego jest naturalna. Mariaż bieli, brązów i rudości orzecha amerykańskiego daje prawdziwą ferię barw.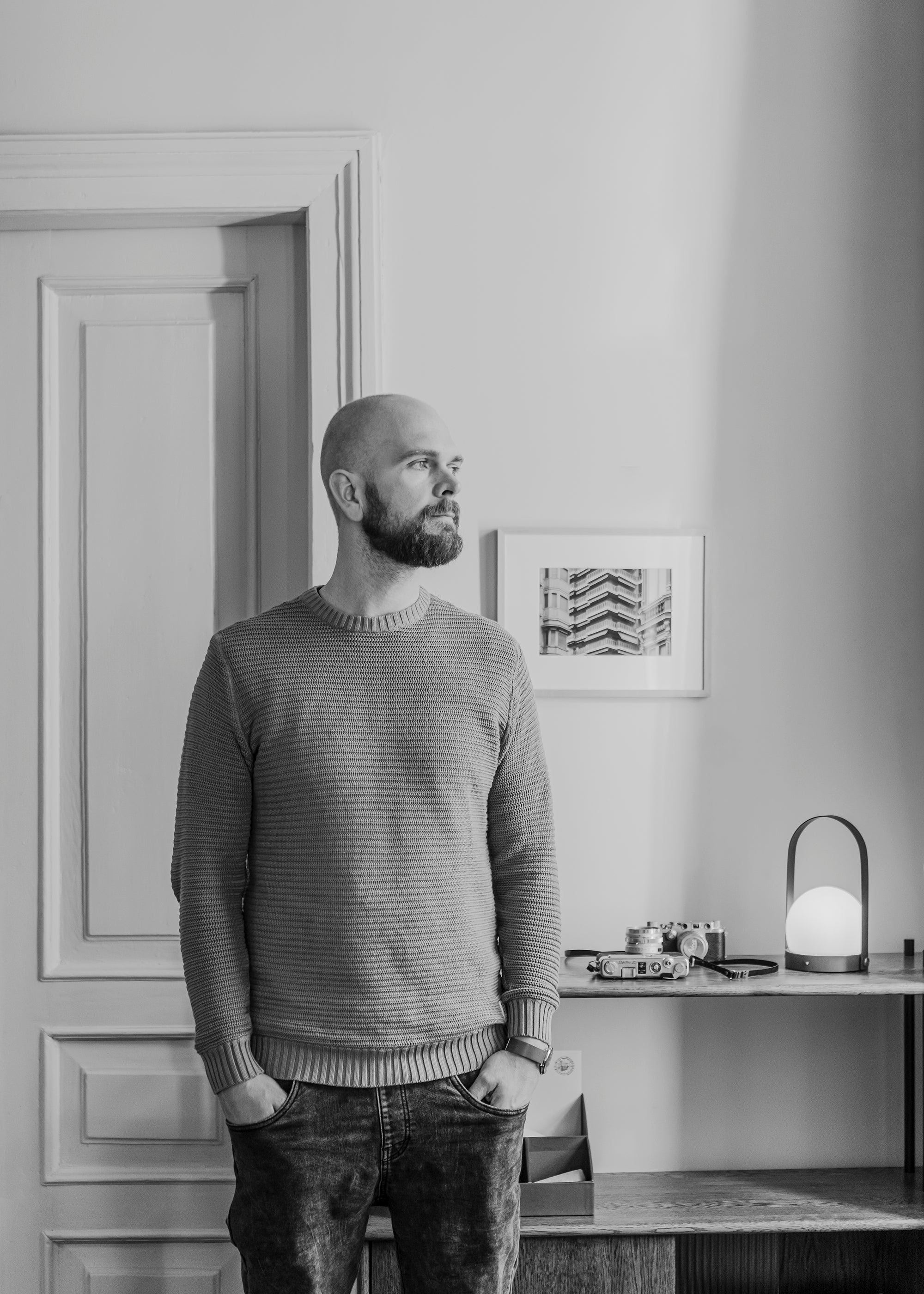 Designer
MARCIN LASKOWSKI
Jest założycielem TAMO, przedsiębiorcą i głównym projektantem. Pod jego kreatywnym okiem powstała większość produktów marki. Czerpiąc kreatywną siłę z tradycyjnych umiejętności stolarskich i zamiłowania do sztuki, powstała unikalna, autorska kolekcja mebli. Jego eksperymentalne podejście do formy i dbałość o kierunek artystyczny kolekcji daje wyraz prawdziwej idei TAMO. Tworzy meble nacechowane mnogością form, płynnie łączące w sobie odniesienia kulturowe m.in. do gdyńskiego modernizmu czy minimalistycznego północno-europejskiego projektowania. Głęboka pasja i wiedza Marcina na temat drewna, przemysłowych i rzemieślniczych procesów produkcyjnych przewija się przez każdy aspekt jego pracy. Absolwent Akademii Sztuk Pięknych w Gdańsku.