ELIPSA SOFT chair Black Oak / Boucle Black
Sale price

€247,00
Regular price

€353,00
(/)
Lowest price in the last 30 day :
---
Delivery time about 8 weeks
All of us who love design celebrate beauty. Life is all about the little moments, and shared meals are their foundation. However, in order for them to last as long as possible, our comfort is important. After all, if we were to count the moments at the table, it would turn out to be quite a few years. Let's make sure that during long family celebrations or ordinary breakfasts, the people most important to us feel good.

The Elipsa, the premiere chair from TAMO, was created for this very purpose. This is a unique design, whose slender lines gracefully intermingle with each other, while subtle curves add a touch of dynamism. The solid joints provide a secure seating stability regardless of our dimensions. Looking at the Elipsa chair you can get the impression that the contoured backrest, slides finely on the backs of inconspicuous armrests. It is thanks to the armrests that we relieve pressure on the upper part of the spine, and a nosy aunt or a rubbishy uncle will keep a healthy distance. But what is invisible at first glance is that the ergonomics of the Elipsa will take care of our maximum relaxation and comfort during precious meetings and meals with loved ones. The Elipsa is created from solid, certified oak wood and plywood.

All of us, design lovers celebrates beauty.

Little moments matter and the common meals are its foundation. However, to last as long as possible we need to care about our comfort. Throughout our life we sit for a few years after all. Let's make sure that people we love feel comfortable during long ceremonies and casual breakfasts. That's why we've made ELIPSA- premiere chair from TAMO!

Unique construction, where all the slender lines penetrate each other and elliptic curves makes the chair a little dynamic. Regardless of your size, solid structure ensures your safe sitting. When we look at Elipsa we can't help feeling like a contoured backrest slide gently on inconspicuous armrests. It is thanks to them your spine can relieve and your nosey auntie or earthy uncle will keep a safe for our ears distance.

What might be invisible at first sight is that Elipsa's ergonomics will make you feel totally relaxed on every occasion.

Designed by Marcin Laskowski



Height 76.5 cm

Width 58.5 cm

Depth 56.5 cm

Armrest height - 69 cm

Weight 7 kg
Frame and backrest - solid oak wood.

Seat - hardwood plywood, boucle type fabric.

Finish - the product is available in NATUR and BLACK versions. Finished with varnish.
ELIPSA SOFT chair Black Oak / Boucle Black
Sale price

€247,00
Regular price

€353,00
Choose options
Sale price

€247,00
Regular price

€353,00
(/)
Lowest price in the last 30 day :
---
View details
craftsmanship
ELIPSA
Classic sense of craftsmanship, eye-catching clean details, exceptional design....
function
ERGONOMY
The chair is not only the shape, but, above all, thoughtful ergonomics. The contoured backrest finely slides over the back of the inconspicuous armrests, so we can relieve the upper part of the spine.
form
CRAFT
Where slender lines gracefully intertwine with subtle curves, providing comfortable seating for everyone.
COMFORT
To make it softer, we added a boucle fabric option for more comfortable seating...
NEW ELIPSA is available in dark oak with a leather seat.
Elipsa chair
OTHER VARIANTS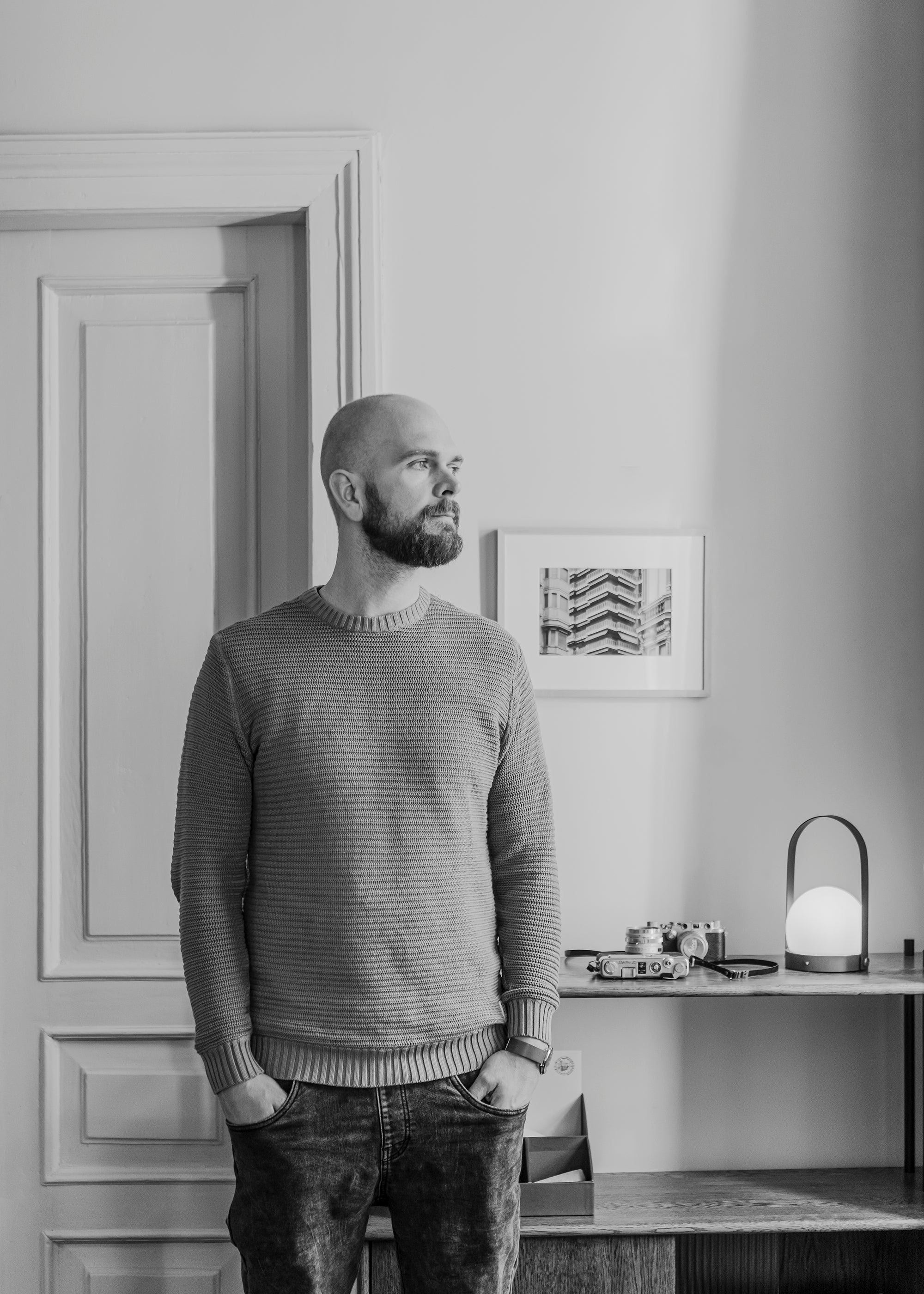 Designer
Marcin Laskowski
He is the founder of TAMO, entrepreneur and chief designer. Most of the brand's products were created under his creative eye. Drawing creative strength from traditional carpentry skills and love of art, a unique, original collection of furniture was created. His experimental approach to form and attention to the artistic direction of the collection expresses the true idea of ​​TAMO. He creates furniture characterized by a multitude of forms, seamlessly combining cultural references, e.g. to Gdynia's modernism or minimalist northern European design. Marcin's deep passion and knowledge of wood, industrial and artisanal production processes runs through every aspect of his work. A graduate of the Academy of Fine Arts in Gdańsk.