BOLD table
Sale price

€278,00
Regular price

€397,00
(/)
Lowest price in the last 30 day :
---
BOLD is our reference to sculptural sensitivity. Its essence lies in the interpenetrating shapes and balanced proportions. Extravagant in expression but simple enough to be called common. The minimalist juxtaposition of three solids embodies our need to create clear forms. Built entirely on a circular plan, it refers to the cross-section of a trunk with a changing diameter. Available in five finishes and always made of high-quality wood.

2020 - it's time of revolution, awaking and new begging. New age has come - the Age of Aquarius. It represents higher consciousness, evolution and flexibility in thinking. In TAMO we're always up to new, that's why we enter the age of Aquarius with new energy. Following changes, we experiment with new forms but still we are loyal to craftsmanship and raw materials. Reduced, inorganic form and very not modernist proportions - these are Neo tables. Our first new wave of furniture for the Age of Aquarius. Neo not only presents itself finely in modern indoors but it really does affect good on our well-being. You ask how? Subconsciously, we react on big eyes or chubby cheeks. When we see them amygdala (part of our brain) realizes lots of positive emotions and makes us affectionate. But amygdala is quite old and easy to cheat. We can feel similar affection when we watch babies, little pets, sweet fairy tales or objects like, you know, Neo tables. Fatten cylindrical legs made of solid wood and classy, round top - contrary to appearance - are a sign of sophisticated aesthetics which fits into the pattern of new age, the Age of Aquarius.
Height: 60 cm

Width: 43 cm

Depth: 40 cm

Weight: 6 kg
The whole - solid oak or ash wood. Finish - varnished wood
BOLD table
Sale price

€278,00
Regular price

€397,00
Choose options
BOLD table
Sale price

From €230,00
Regular price

€329,00
Sale price

€278,00
Regular price

€397,00
(/)
Lowest price in the last 30 day :
---
View details
table
BOLD
BOLD to nasze nawiązanie do rzeźbiarskiej wrażliwości.
forma
BALANS
Jego istota tkwi w przenikających się bryłach i wyważonej proporcji. Zbudowany w całości na planie koła nawiązuje do przekroju pnia o zmieniającej się średnicy.
minializm
RZEŹBARSKI
Ekstrawagancki w wyrazie ale na tyle prosty aby nazwać go pospolitym. Minimalistyczne zestawienie trzech brył uosabia naszą potrzebę kreowania klarownych form. 
Dostępny w pięciu wariantach wykończenia i zawsze wykonany z wysokiej jakości drewna dębowego.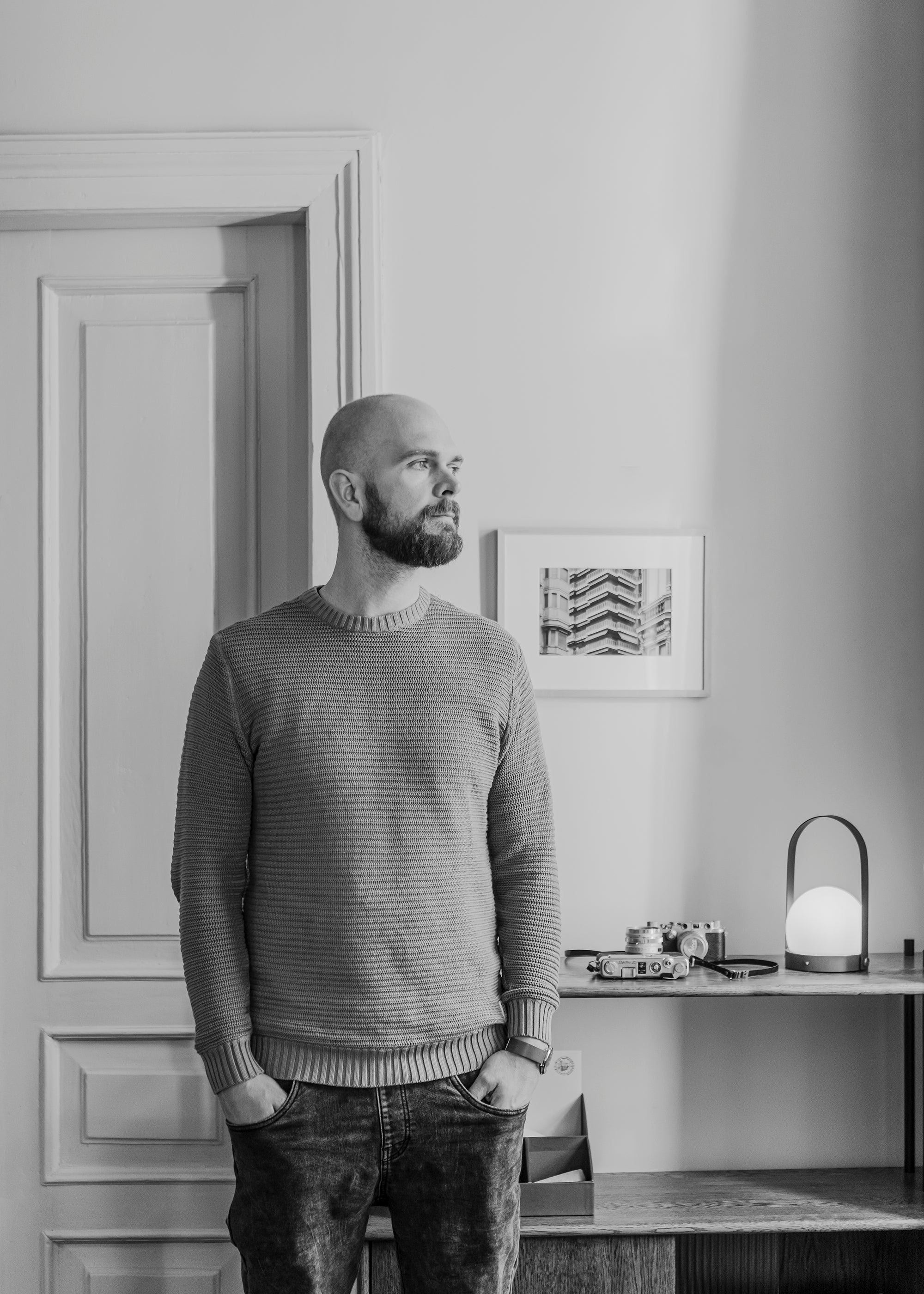 designer
MARCIN LASKOWSKI
Jest założycielem TAMO, przedsiębiorcą i głównym projektantem. Pod jego kreatywnym okiem powstała większość produktów marki. Czerpiąc kreatywną siłę z tradycyjnych umiejętności stolarskich i zamiłowania do sztuki, powstała unikalna, autorska kolekcja mebli. Jego eksperymentalne podejście do formy i dbałość o kierunek artystyczny kolekcji daje wyraz prawdziwej idei TAMO. Tworzy meble nacechowane mnogością form, płynnie łączące w sobie odniesienia kulturowe m.in. do gdyńskiego modernizmu czy minimalistycznego północno-europejskiego projektowania. Głęboka pasja i wiedza Marcina na temat drewna, przemysłowych i rzemieślniczych procesów produkcyjnych przewija się przez każdy aspekt jego pracy. Absolwent Akademii Sztuk Pięknych w Gdańsku.