BAHA
Sale price

€975,00
Regular price
(/)
---
Delivery time about 8 weeks
BAHA illustrates our passion for simple, logical forms. It attracts with its proportions and naturalness of wood. Inspired by Gdynia's modernism and Scandinavian neutrality. The BAHA collection is lightness and function in a wooden dress. Discreet ball handles and a transparent glass with a unique structure organize the composition. Ornamental glass gently obscures what is inside. It can be made of solid oak or American walnut. Available in three dimensional variants and four color configurations.

Make a space for the interstellar FEBE.

Modernistic Gdynia, hometown of TAMO, is a part of agglomeration of Tricity, next to secessionist Sopot and Gothic Gdańsk. The last one is known not only for Solidarity, Fahrenheit or Schopenhauer but also for Johannes Hevelius the real lunar visionary. Inspired by Hevelius and influenced by full moon transition TAMO's FEBE has arisen.

FEBE (eng. PHOEBE) is an irregular satellite of Saturn and TAMO's new futuristic very regular collection. Sublunar solid wood and ethereal terrazzo erected on weedy, bowed, steel legs makes FEBE almost animated in a very good and mature way. Beautifully curved corners and circular handle seem to be brought out of Tokio that fits both in minimalist and Bohemian houses around the globe.

Collection consists two varieties of commode vertical and horizontal with five types of finishing.

Undoubtedly FEBE is outright star of the interior as well as the living room or dining area it can proudly decorate galleries, cafés head or headquarters of your (inner) boss.

FEBE is made of solid, certified wood, manufactured in old dockyard warehouse by crafts master, head designer and founder of TAMO Marcin Laskowski. His rebellious soul leaves TAMO uncompromised to the highest quality, making TAMO's furniture longevous. Many of his works are regarded as a new Polish Classics and were awarded many times.

Handle is made of terrazzo in collaboration with girls from Kolektyw studio.

Dimensions:



BAHA

Height: 87 cm

Width: 100 cm

Depth: 40 cm

BAHA D2

Height: 107 cm

Width: 100 cm

Depth: 40 cm

BAHA D4

Height: 126 cm

Width: 100 cm

Depth: 40 cm
Body and legs: solid oak wood

Drawer: solid oak wood Sliding

door: tempered glass

Handle: oak Finish: hard wax oil or varnish
BAHA
Sale price

€975,00
Regular price
Choose options
BAHA
Sale price

From €975,00
funcjonalność
BAHA
Ilustruje nasze zamiłowanie do prostych, logicznych form. Zainspirowana gdyńskim modernizmem i skandynawską neutralnością.
kompozycja
LEKKOŚĆ
Kolekcja BAHA to lekkość i funkcja w drewnianej szacie. Dyskretne uchwyty kulowe i przezierna szyba o wyjątkowej strukturze porządkują kompozycję.
wykończenie
DETALE
Szkło ornamentowe delikatnie przysłania to co znajduje się w jej wnętrzu. Może być wykonana z litego drewna dębowego lub orzecha amerykańskiego. Dostępna w trzech wariantach wymiarowych i czterech konfiguracjach kolorystycznych. Przyciąga proporcjami i naturalnością drewna.
przechowywanie
FUNKCJA
Poprzez zróżnicowanie materiałów BAHA daje spektrum funkcjonalności przechowywanie. Możesz zdecydować co chcesz ukryć całkowicie, dyskretnie za witryna a co wyeksponować.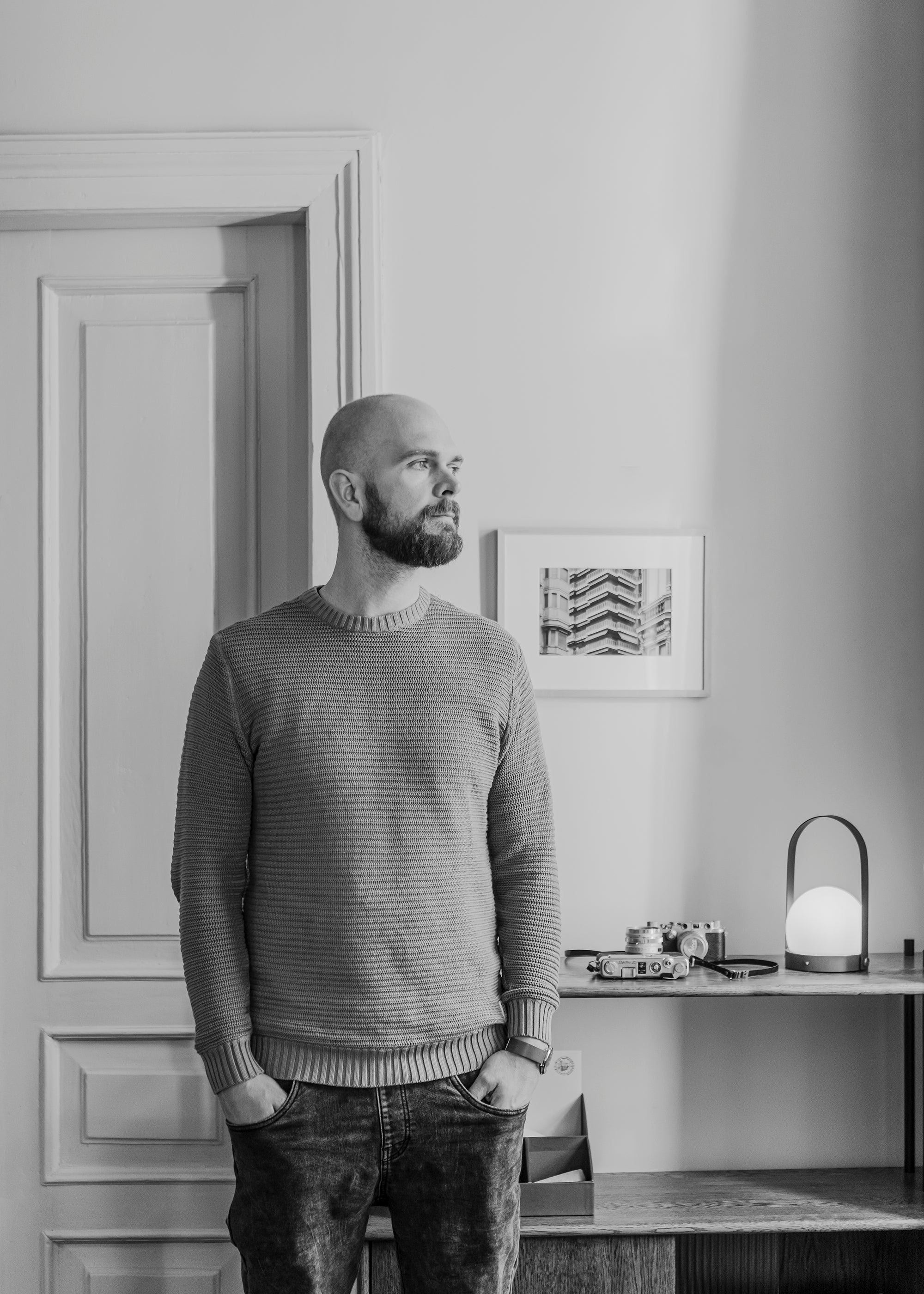 Designer
MARCIN LASKOWSKI
Jest założycielem TAMO, przedsiębiorcą i głównym projektantem. Pod jego kreatywnym okiem powstała większość produktów marki. Czerpiąc kreatywną siłę z tradycyjnych umiejętności stolarskich i zamiłowania do sztuki, powstała unikalna, autorska kolekcja mebli. Jego eksperymentalne podejście do formy i dbałość o kierunek artystyczny kolekcji daje wyraz prawdziwej idei TAMO. Tworzy meble nacechowane mnogością form, płynnie łączące w sobie odniesienia kulturowe m.in. do gdyńskiego modernizmu czy minimalistycznego północno-europejskiego projektowania. Głęboka pasja i wiedza Marcina na temat drewna, przemysłowych i rzemieślniczych procesów produkcyjnych przewija się przez każdy aspekt jego pracy. Absolwent Akademii Sztuk Pięknych w Gdańsku zdobywca pięciu statuetek MUST HAVE za najlepiej zaprojektowane produkty.